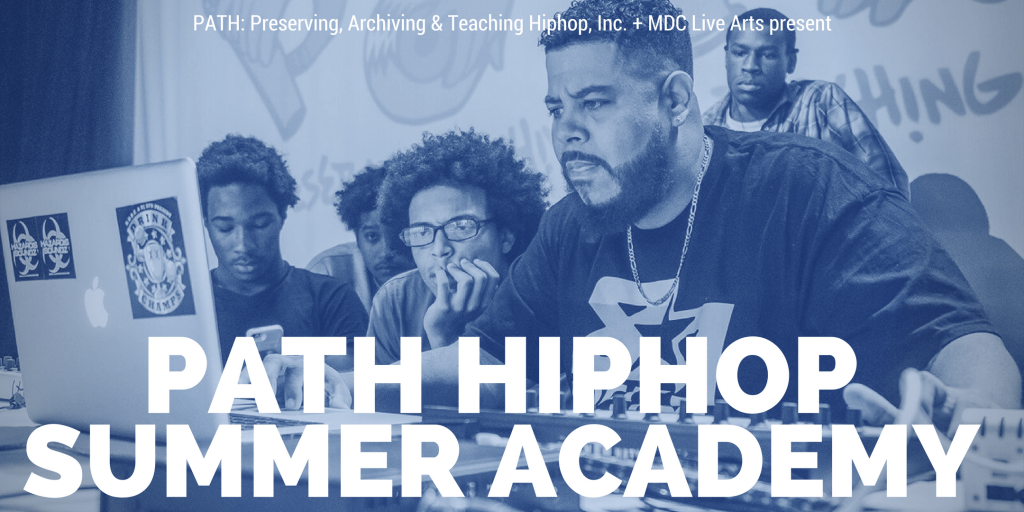 The PATH Hip Hop Academy trains the next generation of Hip Hop artists, leaders, scholars and entrepreneurs. If you're a teen (ages 13-19), what are you waiting for?
APPLY for a scholarship
A limited number of scholarships are available for qualified applicants.
Program dates: July 10 – August 11,  2017
Times: 9:30 am – 4 pm (weekdays)
Location:
Miami Dade College Wolfson Campus
MDC Live Arts Lab
300 NE 2nd St, Bldg #1
Miami, FL 33132
Cost: $305.00 (A limited number of scholarships available on a rolling basis until June 30, 2017)
Eligibility: Ages 13 – 19; strong interest in Hip Hop culture, leadership and community service; commitment to participate for the full 5 weeks
– Make friends and family for a lifetime
– Learn DJing, MCing, Bboy/Bgirl + Urban Art skills from professional working artists
– Hone your leadership skills through individual and team challenges
– Explore careers of all kinds through master classes with industry professionals
– Qualify for college scholarships and get college ready
The PATH Hip Hop Summer Academy is presented by PATH: Preserving, Archiving & Teaching Hiphop, Inc. & MDC Live Arts.

"Miami's most eclectic performing arts series"
MDC Live Arts is Miami's most eclectic performing arts series—celebrating 25 years this season! Created in 1990 as Cultura del Lobo, MDC Live Arts has an illustrious history of bringing extraordinary national and international performing artists to Miami. The annual series presents today's most exciting artists and designs meaningful engagement between these artists, the students of MDC, and the greater community. MDC Live Arts seeks artists from across the globe who push boundaries and honor traditions relevant to Miami's diverse community, and aims to offer audiences opportunities to discover new ideas, perspectives and forms of expression.
---
The PATH Hip Hop Summer Academy is made possible with the support of the Miami-Dade County Department of Cultural Affairs and the Cultural Affairs Council, the Miami-Dade County Mayor and Board of County Commissioners and is funded in part by The Children's Trust. The Children's Trust is a dedicated source of revenue established by voter referendum to improve the lives of children and families in Miami-Dade County by making strategic investments in their future.