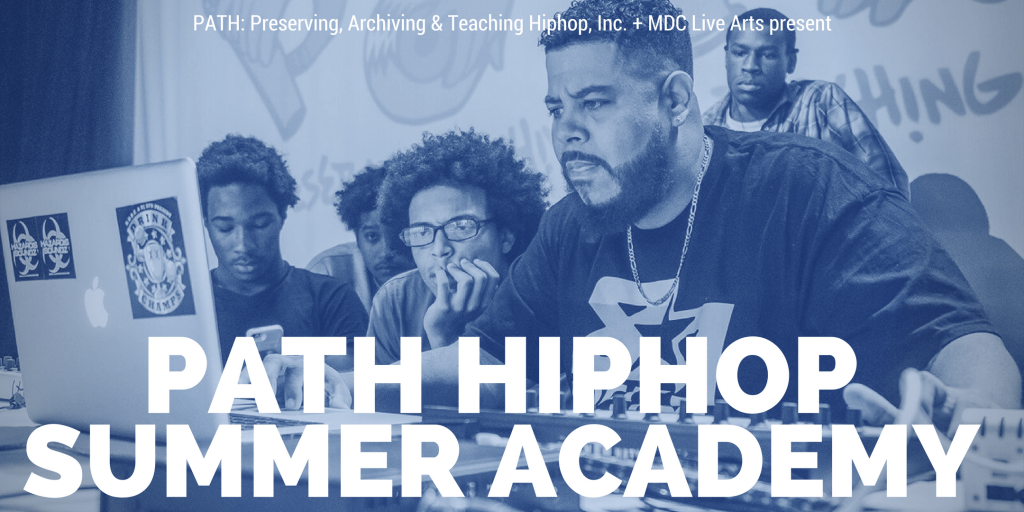 ---
In 2018, we're celebrating our 10 Year Anniversary! In 2008, The PATH HipHop Summer Academy was presented by Miami Light Project. In partnership with Scratch DJ Academy, teens from all over South Florida connected for the first PATH Hip Hop Summer Academy. Since then, we have been working with community partners to train the next generation of Hip Hop artists, leaders, scholars and entrepreneurs. With generous support from public and private donors, the PATH Hip Hop Academy now includes:
PATH Hip Hop Summer Academy (July – August)
These Are The Breaks: Winter Intensive (December or January)
These Are The Breaks: Spring Intensive (March)
Youth ages 13 – 18 learn creative, technical and entrepreneurial skills directly from Hip Hop industry professionals, practitioners and pioneers. In addition to the 5 main elements of Hip Hop: DJing (Music & Technology), Emceeing (Creative Writing & Music), B-boying/girling (Dance), Writing (Visual/Urban Art) & Knowledge (Knowledge of self + Hip Hop history and philosophy). The experience encourages teamwork, improved self-esteem, critical thinking, leadership and the application of Hip Hop's "Can't Stop, Won't Stop" attitude to achieving one's personal, professional and educational goals.
Program dates: July 9 – August 10,  2018
Times: 9:30 am – 4 pm (weekdays)
Location:TBA
Cost: $500.00 (A limited number of scholarships available on a rolling basis)

Eligibility: Ages 13 – 19; strong interest in Hip Hop culture, leadership and community service; commitment to participate for the full 5 weeks
– Make friends and family for a lifetime
– Learn DJing, MCing, Bboy/Bgirl + Urban Art skills from professional working artists
– Hone your leadership skills through individual and team challenges
– Explore careers of all kinds through master classes with industry professionals
– Qualify for college scholarships and get college ready
---
The PATH Hip Hop Academy is made possible with the support of the Miami-Dade County Department of Cultural Affairs and the Cultural Affairs Council, the Miami-Dade County Mayor and Board of County Commissioners and is funded in part by The Children's Trust. The Children's Trust is a dedicated source of revenue established by voter referendum to improve the lives of children and families in Miami-Dade County by making strategic investments in their future.